Paulig Health Protect
Ingredients:
Vitamins:
Vitamin B2 (Riboflavin)
Vitamin B3 (Niacin)
Vitamin B6 (Pyridoxine)
Vitamin C
Trace Elements:
Iron
Copper
Zinc
Resveratrol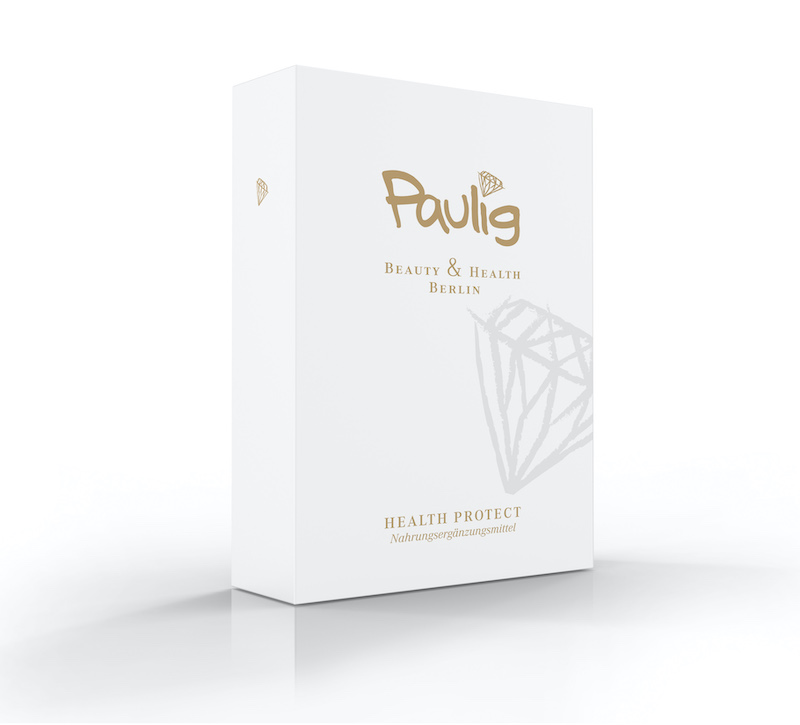 Paulig Beauty Protect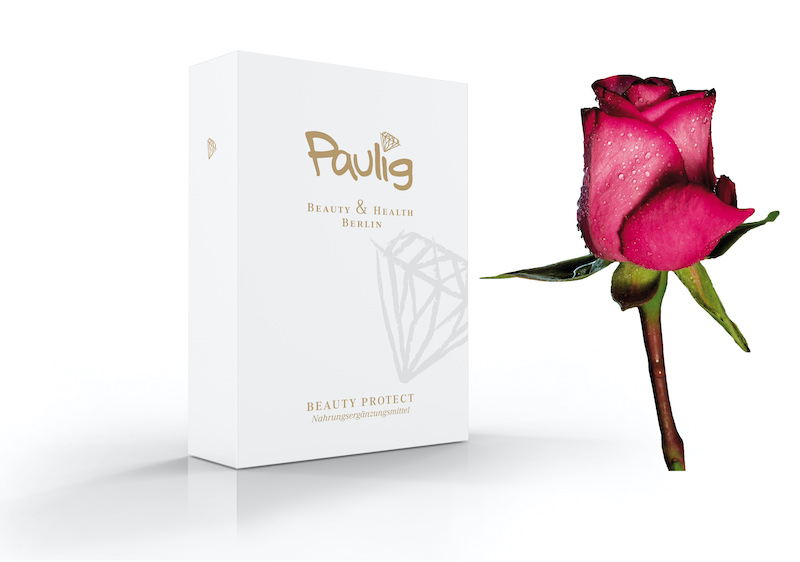 Ingredients:
Amino acids
Glycin
L-Carnithin
L-Lysin
L-Prolin
Paulig AMD Protect
Ingredients:
Plant Extracts:
Essential fatty acids:
Omega-3
Docosahexaensäure (DHA)
Eicosapentaensäure (EPA)
Trace elements:
Vitamins:
Vitamin B1 (Thiamin)
Vitamin B2 (Riboflavin)
Vitamin B3 (Niacin)
Vitamin B6 (Pyridoxin)
Vitamin B9 (Folsäure)
Vitamin B12
Vitamin C
Vitamin E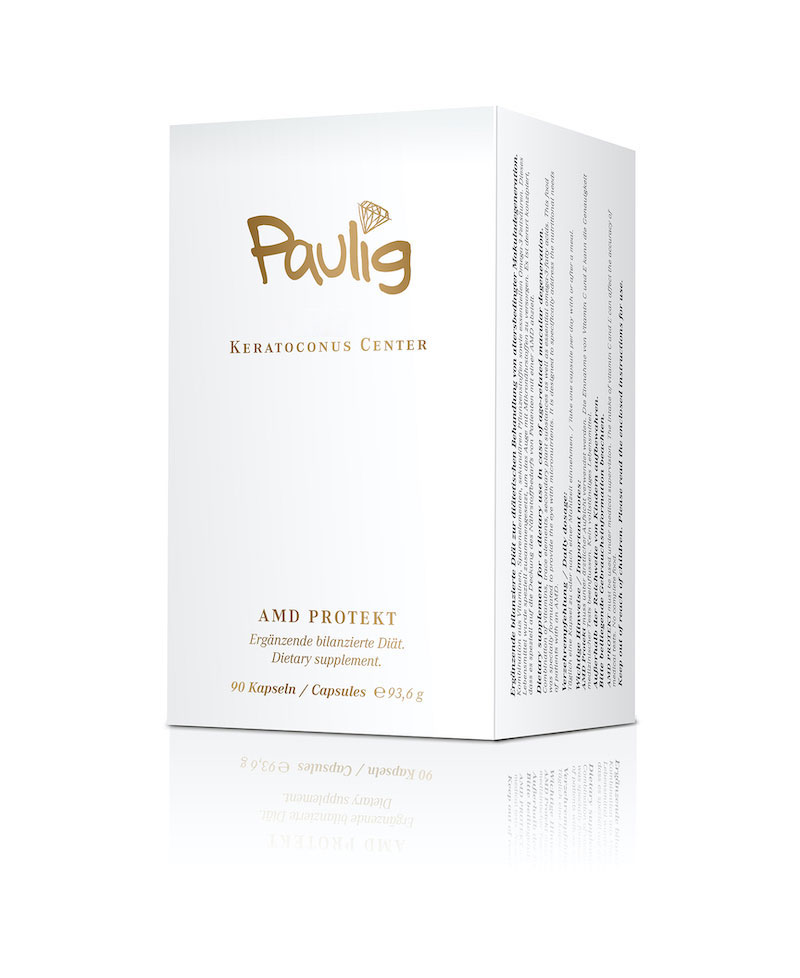 Paulig Lipospray/Lipospray Hangover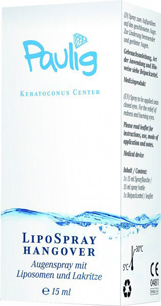 Without any preservatives
Hydrates and nourishes the eyes
Relieves burning sensation and irritations caused by dry eye syndrome
Improves comfort for all types of contact lenses
Effective alternative to eye drops
For faster and safer recovery time after eye surgery
Paulig Pads with Aloe Vera
For daily eye lid hygiene
Moisturize and relieve irritated and tired eyes
Eye cleansing in case of inflammatory diseases such as blepharitis, chalazion or conjunctivitis
Cleaning alternative after eye surgery
Make up removal (without any preservatives)
Cleansing of sensitive skin (ideal for children)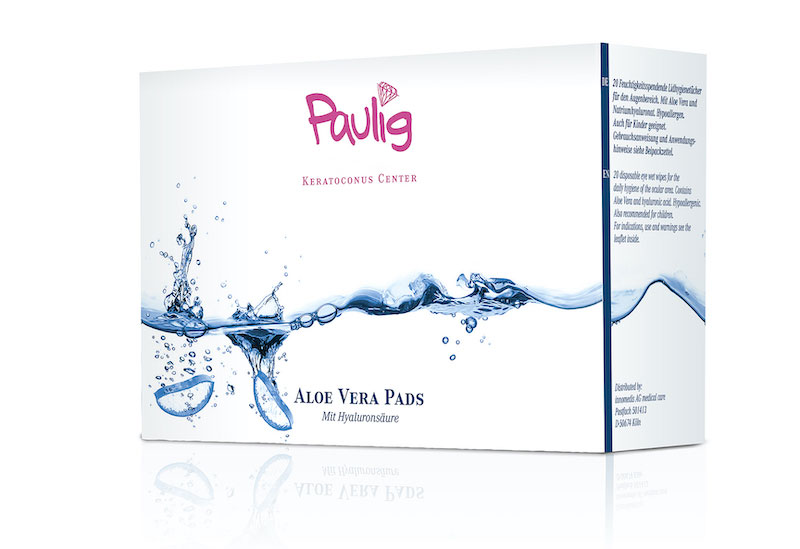 EYE CONTOUR ROLL ON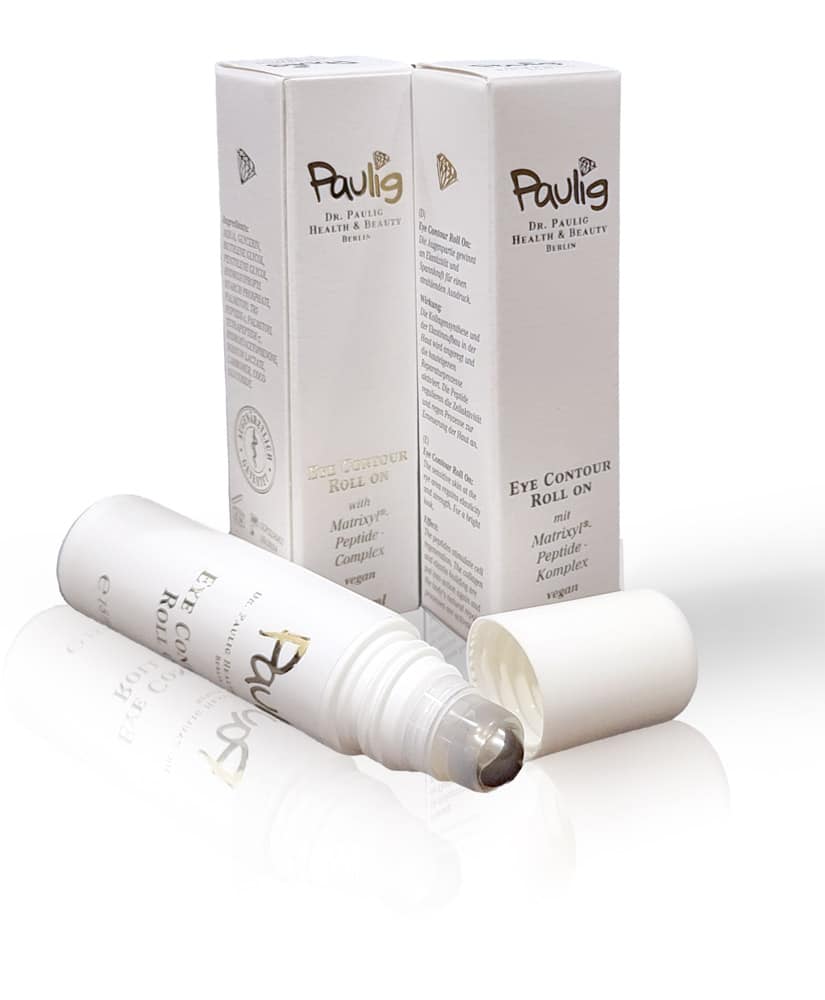 For elasticity and strength of the sensitive skin area
Important in longterm antiwrinkle cosmetics
Effect: Peptides stimulate cell regeneration
Collagen and Elastin building are put into action again and the body's natural repair processes are activated.
with Matrixyl®- Peptide-Complex
vegan
Our Unique Hyaluron
Low molecular weight hyaluronic acid
Low molecular weight hyaluronic acid consists of molecules of 50 kd or smaller, something that makes the absorption easier and ensures that water is stored in the connective tissue of the skin. The additional moisture not only makes the skin firmer, but also visibly reduces wrinkles. When using low molecular weight hyaluronic acid, the moisture is stored permanently in the skin, something that leads to a more sustainable effect.
High molecular weight hyaluronic acid
High molecular weight hyaluronic acid is another variant. It consists of molecules of 1,500 kd and larger and can not penetrate the skin barrier. However, when it evaporates, it forms a film with the keratin of the skin, which moisturizes the skin and improves its elasticity. Unfortunately, this film is washed off relatively quickly, so that no long-term effect occurs. Other than that high molecular weight hyaluronic acid has anti-inflammatory benefits, so it is thus nurturing and soothing.
Which hyaluronic acid works best in cosmetics?
Both hyaluronic acid types are beneficial to the skin. Therefore, a mixture of both types is the best choice. However, low molecular weight hyaluronic acid is the focal point of our product as the long-term effects are more important. That's why we have processed 4 different molecular sizes in our product Paulig Hyaluron, three of which are low molecular weight and one high molecular weight. The effect is unique and therefore we call the ampoules: the other hyaluron. Your skin is hydrated in depth and at the same time protected from the outside.
Conclusion – class drug, no side effects
Hyaluronic acid gets naturally produced in the body and therefore has virtually no side effects. It binds large amounts of water and can thus regulate the moisture content of the skin. While high molecular weight hyaluronic acid remains on the skin, low molecular weight hyaluronic acid can penetrate deeper and have a long-term effect. To achieve all positive effects, it is recommended to combine both sizes. Hyaluronic acid is a moisturizer. Hyaluron supplements the structure of the skin barrier, so moisture does not evaporate too quickly. Fine lines and wrinkles can be padded. Hyaluron should be an integral part of your cosmetic and supplement of your daily cleansing and caring skin procedure. You can apply OURUNIQUE HYALURON ampoules to clean skin in the morning and/or evening and combine it with any other cosmetic product.
LASH & BROW BOOSTER
Would you like to make an appointment with us? Please feel free to call us:
Tel.: +49 30 20144610
Dates by arrangement
Location
Paulig Research Institut
Markgrafenstraße 35
10117 Berlin
Location UAE
Etihad Towers
Level 36
Abu Dhabi | United Arab Emirates