Intravitreal Injection short IVI
An intravitreal injection is a procedure to place a medication directly into the space in the back of the eye called the vitreous cavity, which is filled with a jelly-like fluid called the vitreous humor. The procedure is performed by a trained retina specialist in the office setting.
The purpose of intravitreal injections is to treat a variety of retinal conditions. Age-related macular degeneration (AMD), diabetic retinopathy and retinal vein occlusion are the most common conditions treated with intravitreal anti-VEGF drugs. The anti-VEGF drugs help to reduce fluid leakage associated with these disorders. Intravitreal injections are an indispensable tool for the retina specialist to treat a variety of conditions. Intravitreal injections often need to be repeated in chronic conditions such as AMD, diabetic macular edema, and retinal vein occlusions, which require frequent office visits. Repeat injections are usually safely tolerated over several years. The need for a repeat injection is determined during the examination, often with the use of diagnostic testing such as optical coherence tomography (OCT).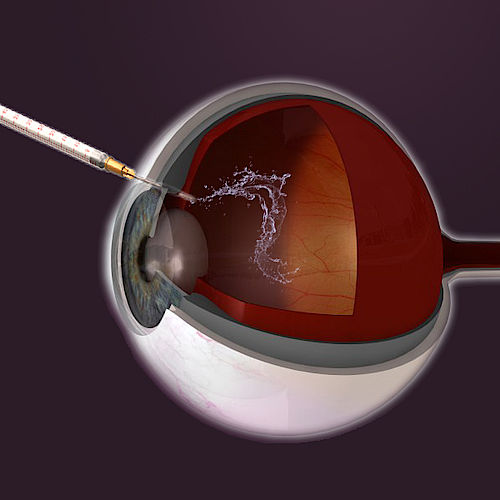 Do you have questions about our operational services? We are happy to answer them:
Tel.: +49 30 20144610
Dates by arrangement
Location
Paulig Eye & Health
Operation / Laser / Anti-Aging
Unter den Linden 16
10117 Berlin
Location UAE
Etihad Towers
Level 36
Abu Dhabi | United Arab Emirates